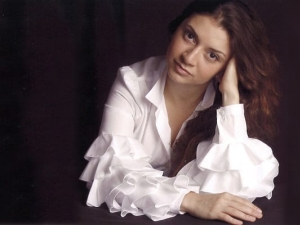 ANNA SARADJIAN
Pianist and Composer
Referent Advisor for Canada
Anna Saradjian, the winner of many international awards and competitions, including a Gold Medal at
the 1992 "Amadeus" National Competition and the Bach Prize from the Ettlingen International
Competition, was born into a family of musicians. She received her first lessons from her late
grandfather, pianist and composer Gyorgy Saradjev, who was also one of the founders of the
Armenian Piano School, afterwards she continued her studies with her father, Professor Sergei
Saradjian.
In 1995, Anna received a scholarship to study with OxanaYablonskaya at the Juilliard School. During
his time in New York, he made his Carnegie Hall debut.
Upon obtaining her Bachelor of Juilliard in 1999, Anna continued her education with Hamish Milne at
the Royal Academy of Music, London, UK. In 2002 she was honored with the award of Dip RAM, a
diploma reserved only for outstanding artists. During her career, Anna has traveled through France,
Italy, Austria, Switzerland, Armenia, South Africa, the United States, the United Kingdom, and
Canada, where she has appeared in such prestigious venues as the South Bank Center, Wigmore Hall,
and Place Des Arts. In addition, he has recorded for the National Radio and Television of Armenia, as
well as for BBC Radio 3.
She has been invited as an artist and teacher to the Nantucket Summer Concert Series (Boston, MA),
the Semper International Music Festival (Italy), the Aragats International Music Festival (Armenia),
and the Montreal Bach Festival.
His recent performances of Beethoven's Piano Concerto No. 3 in C minor, and Brahms's Piano
Concerto No. 1 in D minor, both with the Armenian Philharmonic Orchestra, have been highly
acclaimed by the press. In addition to solo performances, Anna greatly enjoys chamber music
collaborations. He has shared the stage with cellists Alexander Chaushian and Vagram Saradjian,
violinists Lydia Mordkovich, Nicola Loud and Jack Liebeck, pianists Hamish Milne, Jacob Katsnelson
and Eduardo Delgado, and singers Asmik Grigorian, Gegham Grigorian, Hasmik Papian.