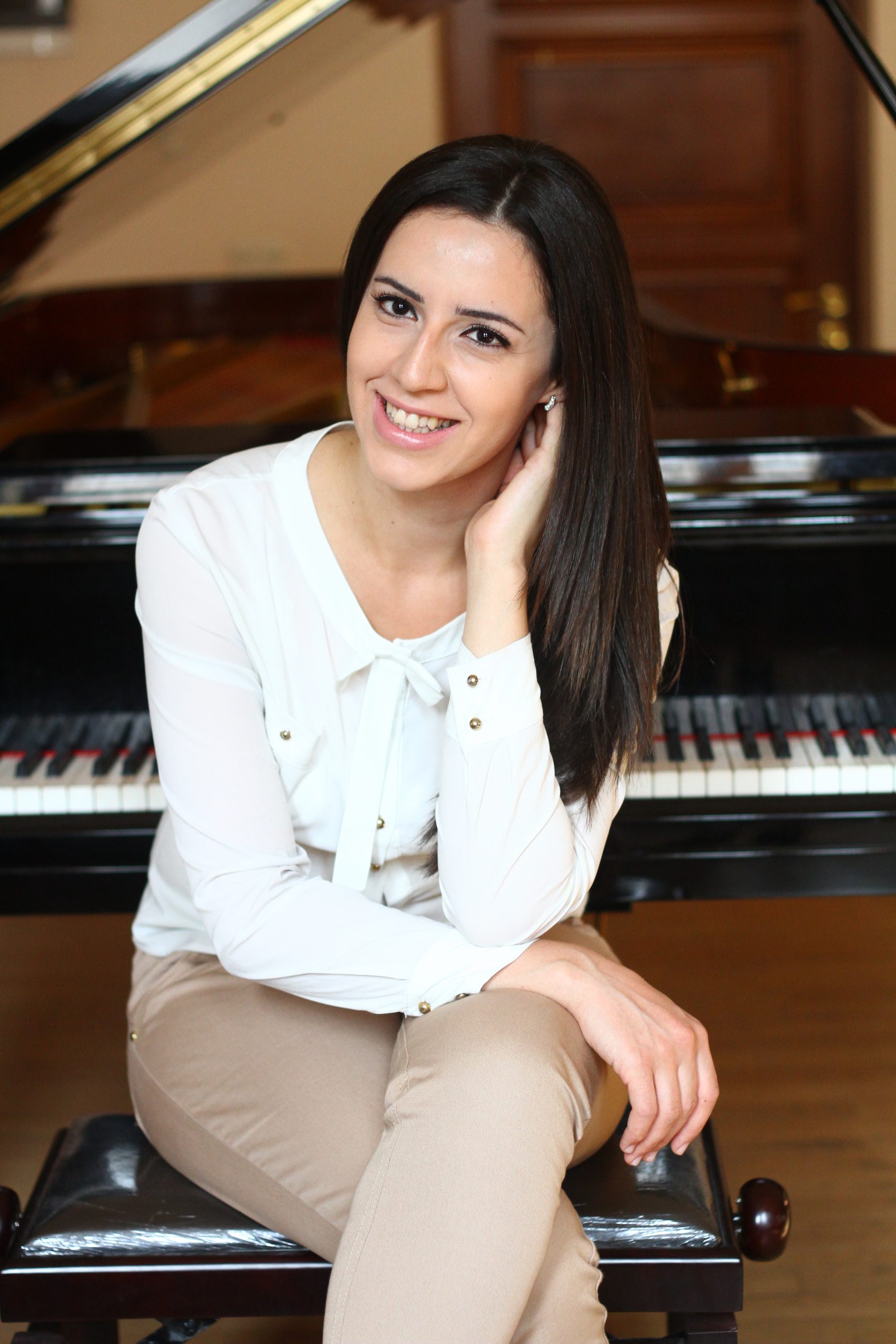 Izabella Marutyan
Pianist
Izabella Marutyan was born on July 23, 1990 in Yerevan,
Armenia. She started playing piano since she was five.
From 1996 to 2006 she studied and finished the
secondary school named after P.I. Chaikovski with
excellent results. The school was specialized in Piano
classes. Miss. Marutyan studied under the supervision of
Z. Vardanyan.
After the secondary school, Miss. Marutyan entered
Yerevan State Conservatory named after Komitas, the
piano faculty. Her professor was Sergei Sarajian. In 2011
she earned the Bachelor of Music degree with excellent
results. In 2012 Miss. Marutyan earned the Master's
degree in piano at State Conservatory. In 2014 she
finished her professional education.
From 2012 to present Miss. Marutyan works at State
Conservatory as an assistant to Professor S. Sarajian.
From 2015 she works as a piano teacher in a musical
school named after Gh. Saryan.
Izabella Marutyan is laureate of several International and
Republican Musical competitions:
2017 – Valetta International Piano Competition – III prize,
(Valetta, Malta),
2015 – Vienna International Music Competition- I prize
(Vienna, Austria)
2015 – The winner of R. Vagner International competition
(Vienna, Austria).
2012 – "Renaissance"IV International Contest-Festival of
the
Musician performers- Piano Duet – I prize
2010 – H. Ter Ghevondyan Competition of
Concertmeisters
– I prize
2005 – G. Sarajev Republican Piano Competition- III prize
2005 – A. Spendiaryan Republican Competition – Festival
Laureate
2004 – A. Babajanyan Piano Competition – III prize
2003 – E. Khachaturyan Republican Competition- Festival
–
III prize
Miss. Marutyan performed as a soloist, ansamblist and
concertmeister in numerous concerts in Austria, France,
Armenia.
She also performed in Wiener Musikakademie Hall in
Vienna in Wagner Konservatorium Hall, at Temi Zammit
Hall in Valetta, at the Armenian Embassy in Austria, at the
French Embassy in Armenia, in French Grange aux Dimes
Hall(Wisteram, Normand), at Aram Khachaturian Concert
Hall, at Komitas Chamber of Music Hall, at Arno
Babajanian concert hall and at Aram Khachaturian
museum.
She received her master classes with Nina
Igudesman(Austria), Alexandra Grabovskaya(Austria) and
Boris Berman(USA), Svetlana Navasardyan(Armenia),
Daniella Laval(France)).
Miss. Marutyan's repertoire comprises from Johann
Sebastian Bach to compositions of Modern composers.